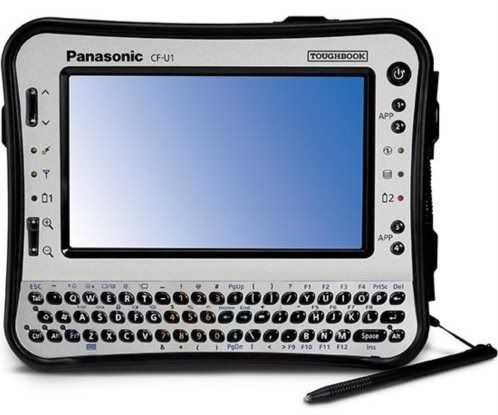 Panasonic, today announced the newest member of its Toughbook U1 ultra-mobile PC product family, the Toughbook U1 Ultra.
The new Toughbook U1 Ultra is equipped with a TransflectivePlus display for up to 6000 nit viewability in direct sunlight, 64GB solid state hard drive, 2GB of memory, an Intel Atom Processor (Z530 1.6Ghz) and Windows 7.
  The Toughbook U1 family of handheld replacement computers has also undergone a number of usability and navigation enhancements, including enlarged screen icons, programmable "right click" onscreen button, a larger soft keyboard, a "zoom and pan" mode – allowing users to simply navigate robust content and a soft "Ctrl-Alt-Del" button for log-on on access.
  The optional 2 megapixel camera features updated software to offer faster auto-focus and improved white balancing, while the optional barcode reader has been improved with new software that allows for onboard, data and symbology configuration. There are other optional embedded features available for the Toughbook U1, including GPS, barcode readers (1D, 1D/2D), fingerprint reader and mobile broadband.
Besides being able to run the latest Windows 7 software, the Toughbook U1 Ultra is ideally suited to run legacy mobile device applications, with solutions available to run Windows Mobile and Windows CE software in the Windows 7 environment.
Panasonic Toughbook U1 Ultra:Features and Specifications
Genuine Windows 7 (with XP downgrade option)
Intel Atom processor Z530 (1.6GHz)
2GB RAM
64 GB Solid State Drive SSD
5.6" WSVGA sunlight-viewable touchscreen using TransflectivePlus technology with up to 6000 nit viewability
Circular polarizer with anti-glare and anti-reflective screen treatments
LED backlighting
Up to 9 hour battery life
Twin hot-swappable batteries
2.3lbs. (with both batteries and strap)
Fully-Rugged

Magnesium alloy chassis – encased in polycarbonate
MIL-STD-810G certified (6 foot drop)
IP65 certified sealed all-weather design
UL1604 (Class 1, Div 2) certified model
Reinforced flex-connect Solid State Drive (SSD)

Embedded Connectivity

Optional integrated WWAN / Gobi2000™ mobile broadband (EV-DO and HSPA)
Intel WiFi Link 5100 802.11a/b/g/n
Bluetooth v2.1 + EDR

Integrated Options

Global positioning system (GPS) receiver
1D barcode reader
2D barcode reader (also 1D capable)
Fingerprint reader
2.0 megapixel auto-focus camera with dual LED lights
Numeric keypad with large buttons including navigation

2.2" (H) x 7.2" (W) x 5.9" (D)
Toughbook U1 Product Family
  With the introduction of the Toughbook U1 Ultra, the product family now includes two devices to meet varying mobile workforce needs. The Toughbook U1 Essential (original Toughbook U1) features the Windows XP OS, up to 32GB SSD, 1GB RAM, a 300nit transmisive display and an Intel Atom (Z520/1.33GHz) processor. The Toughbook U1 Essential is suited for basic mobile computing needs and is an ideal alternative to Windows Mobile ruggedized PDAs and handheld devices.

   The new Toughbook U1 Ultra features the Windows 7 OS, 64GB SSD, 2GB RAM a TransflectivePlus (up to 6000nit) direct sunlight viewable display and an Intel Atom (Z530/1.6GHz) processor. The Toughbook U1 Ultra is designed for highly mobile outdoor applications, including direct store delivery (DSD), eCitation and vegetation management. For more details on the Toughbook U1 family of products, go to: http://www.toughbook.com
Optional Numeric Keypad
  The Toughbook U1 Ultra is also available with an optional 29-key numeric keypad for quick data entry and easy navigation. The numeric keypad also has a single "Ctrl-Alt-Del" button, making one finger operation simple while on the move. The numeric keypad is ideal for warehousing and forklift-like applications where high volume quantity input is useful and for other users that find the QWERTY keyboard unnecessary.
  The Toughbook U1 Ultra is available in the United States starting at an estimated street price of $2,799. The Toughbook U1 Essential is available in the United States at an estimated street price of 1899. Both devices can be purchased through authorized Panasonic resellers and distributors. All Toughbook mobile computers include a standard three-year limited warranty.